SUSTAINABLE RAW MATERIAL​
PET is an amazing material: reusable, recyclable, resource efficient, light, strong and shatter proof. It has an almost infinite number of applications from textile, construction to packaging industries…
It is the most incredible packaging material, versatile and safe, with the lowest carbon footprint when compared to other packaging materials, not only as a virgin resin but also in its recycling process and after use.

Versatile, Resource Efficient
Because it is so versatile, it can be transformed into a large variety of products like t-shirts and raincoats, duvets and carpets, insulation material for construction, packaging material, just to name a few of its endless applications.
Since It needs very little energy to be processed and its resistance requires small quantities of raw material to be used on a product to perform its function, this means it is very resource efficient. 
100% Reusable and 100% Recyclable. It can be recycled back to packaging or a great variety of other products from clothing or other textile products to insulation or furniture… There are several recycling technologies already available  and many rapidly evolving because the residue's market value is increasing day by day.
Polyethylene Terephthalate
IIt is a very versatile and sophisticated thermoplastic made from Mono-Ethylene Glycol (MEG) and Purified Terephthalic Acid (PTA), which derives from crude oil and natural gas.
The extraction process is optimized and has a lower impact versus glass, metal, wood and card.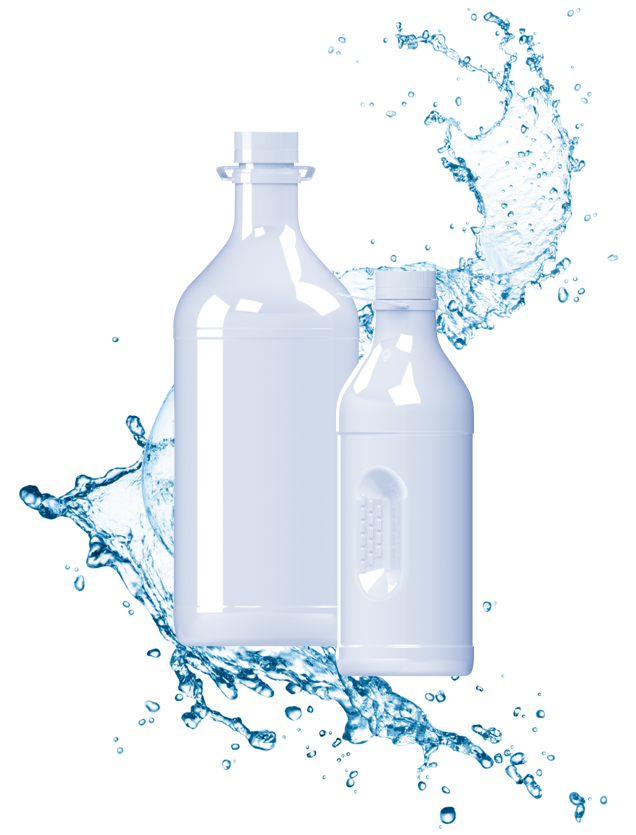 This also means that we can pack PET containers with less materials: no need for extra cardboard, wood, bubble warp or other protection materials. Because takes up less space and it is lightweight by using less materials, we can add up 30% more product in the same shipment trucks or containers, without surpassing the transportation weight limits, which means less carbon emissions.
PET is safe for pharmaceuticals, food, beverages, spirits, personal and home care products mainly because of its very good barrier properties against moisture, microorganisms and gases. It is also inert and as such does not react with its content. It is also BPA free.
PET is very resistant to protect its contents, it is shatter proof avoiding breakages and contamination throughout filling and transportation processes.
PET IS PLASTIC AND IT IS GOOD
We are aware that all of us are dealing with a big residue problem, shared by all materials, and we are for sure part of the solution!
PET Packaging brings countless benefits to our lives. As stated before PET is not only reusable, recyclable, resource efficient but is a material that has already a defined circular economy, making it the a smart eco-friendly choice.
Nevertheless, all of us within the industry, governments and within our own homes play a critical role on the success of the environment endeavor – making sure that the post life products are successfully delivered to its valuable chain of transformation, generating value along the way for everyone and a priceless positive change in our planet's life. We create life packaging.